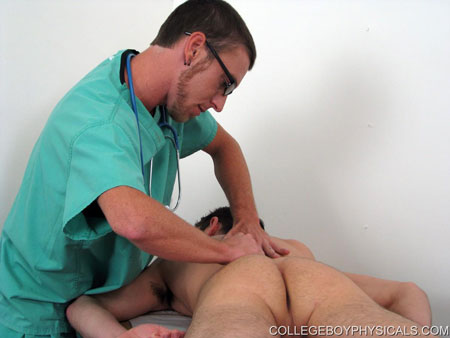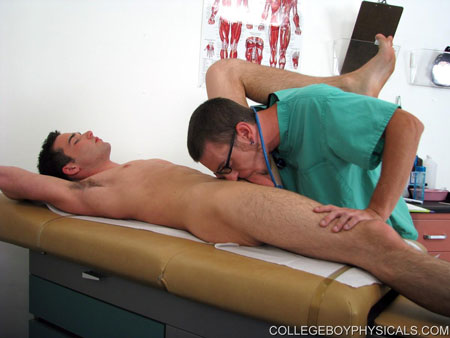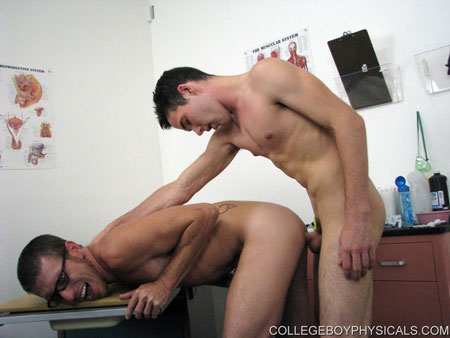 The doctor @ College Boy Physicals says,
I had just finished up with Kevin and his stretching to try to loosen him up but I wasn't sure that my first exam did the trick so I continued with a more intensive approach.

Kevin arrived back and I quickly went through his vital signs. Kevin is a really hot patient and I was eager to get started with his return exam. I had Kevin lay on the exam table and I did some more stretching but this time I worked out his lower body making my way to his hot juicy ass. I spread his ass checks and played with his anal cavity as I decided to insert the prostrate anal probe and let that be in there for a while. I inserted the prostrate stimulator into his tight asshole and I teased his hole for a while before turning him over to inspect his cock as it grew. The prostrate stimulator was also giving him pleasure and it was messaging his prostrate which made Kevin a bit more relaxed but yet bad his cock rock hard. I couldn't help myself but I had to get a closer look at his hot cock so I lean forward and open my mouth as I inserted his now throbbing and twitching cock. I sucked on his cock for a while but then I had an idea. I Told Kevin to suck my cock and then decided to have him fuck me.