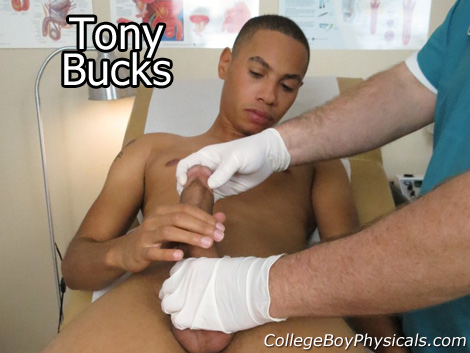 Today I had a new candidate for a study we were running on the campus walk into the office. He saw a flyer and brought it into the office and presented it to me so I said," Step right up and sit on the examination table. I explained the study geared towards gentlemen with extra large penises. He told me he would be more than welcome to show me what he was working with. So he dropped his pants and boy was I taken back with the size of his soft cock.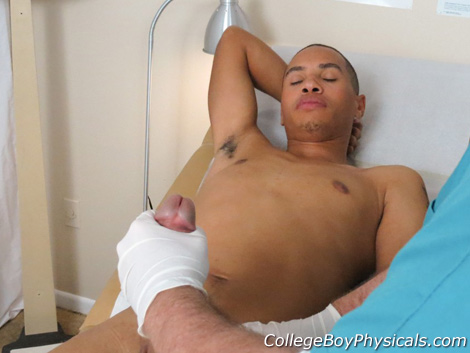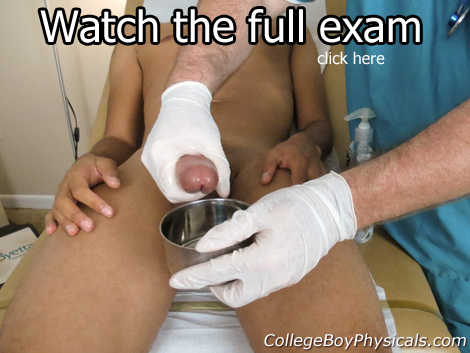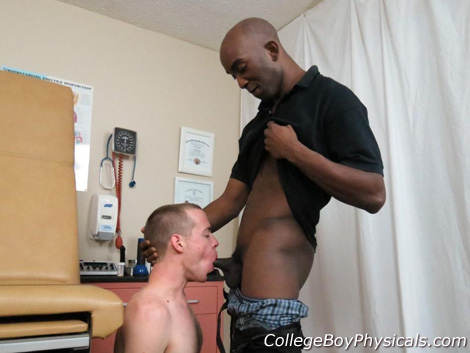 Michael was definitely no stranger to a life of crime. He was currently making a killing peddling stolen drugs and his next place to hit up was an on-campus clinic. He broke in in the dead on night and started looking for medication he could sell on the streets. He hit the jackpot when he found a bottle of prescribed painkillers but before he could put them away the door burst open and in came Officer Jackson. Jackson started grilling the frightened Michael about his trespassing on clinic premises and his possession of medical grade painkillers.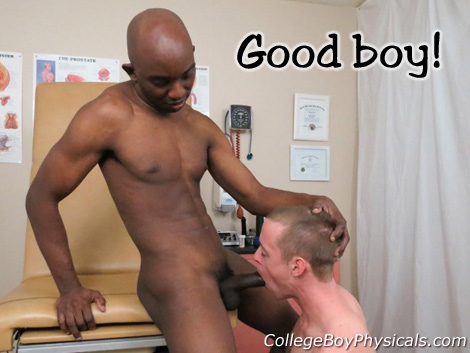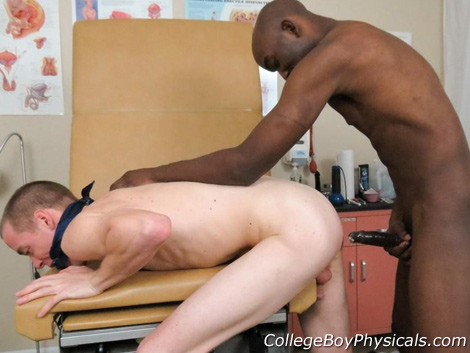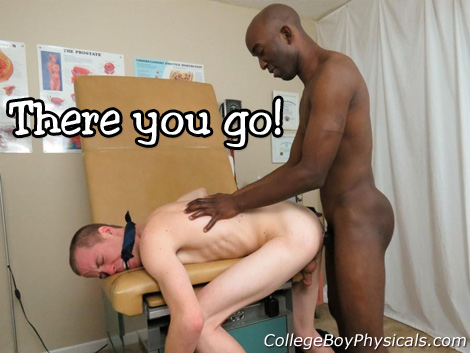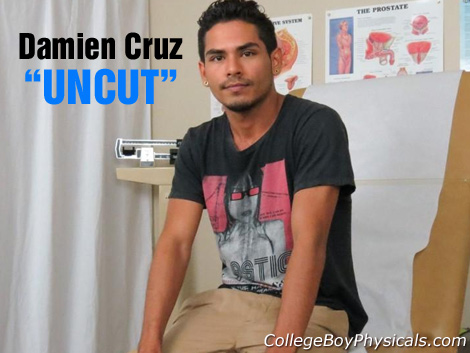 I walked into the examination room and waited patiently for the doctor to come in. I couldn't wait to get home and I definitely need to blow my load. The doctor poked his head into the room and told me to just sit tight for another 15- 20 minutes. I sighed and was sexually frustrated beyond belief. So I sat back on the exam table and let my hands do the walking down toward my crotch. I figured since I had the time I would just get the job done and blow my load while I was waiting. I stepped of the table and got undressed then hopped on back onto the table and began to stroke my hardening meat.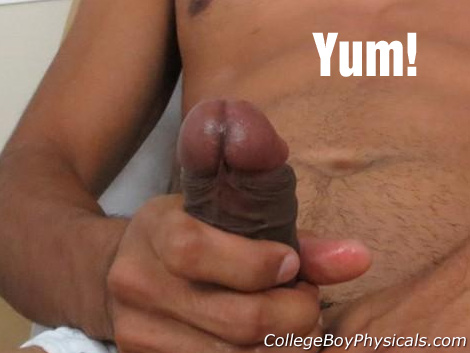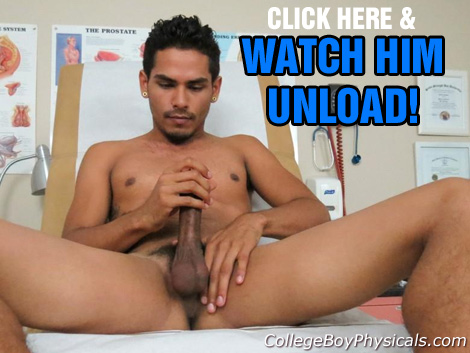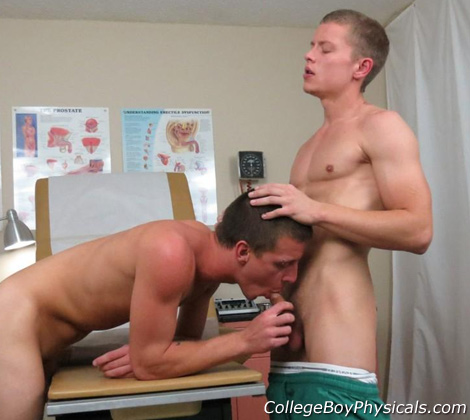 Once Travis was done shooting his hot pent up load I figured it was time for him to repay the favor. I had him lean over the examination table and then began to insert my dick into his mouth. I began to face fuck him hard which he seemed to love. Driving my thick long dick deep into the back of his throat then removing it to the tip only to shove it balls deep again. He was swallowing my cock like a pro and I couldn't be happier with this patient. I removed my dick from his mouth and then sat down on the exam table so I could be more comfortable while I got the blowjob of a lifetime.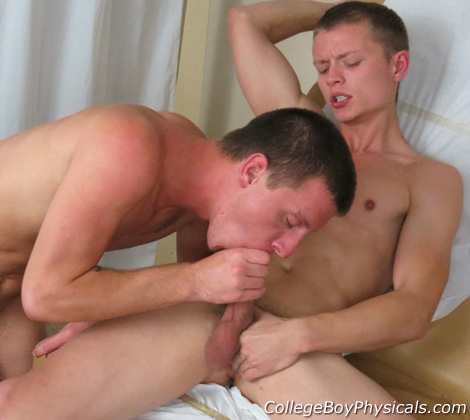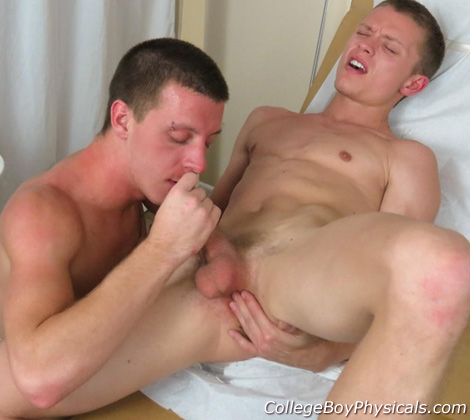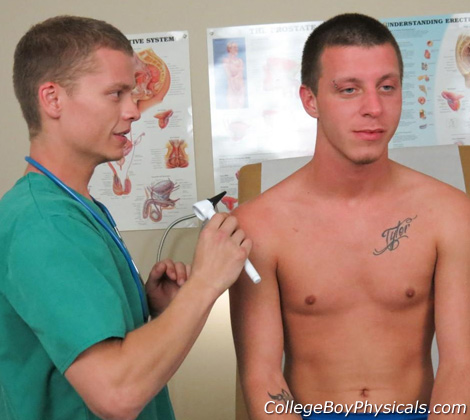 Travis Cooper came back to the office looking for Dr. Phingerphuck only find that the resident that would be attending to him would be the fresh-faced Dr. Andrews. A bit disappointed, Travis contemplated leaving the office but had a gut feeling he should stay and see how this plays out. Dr. Andrews did a full physical on him even getting him completely undressed.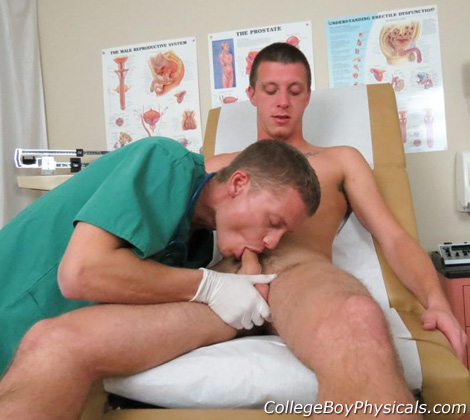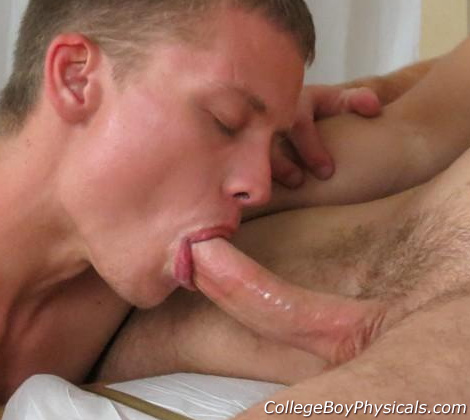 Nick Kush and Pierre Palm waited in the examination room while the doctor played catch up tending to his other patients. The boys left alone began to make some small chit chat with each other. They began to open up about their last visits with Dr. Phingerphuck and how different these physicals compared to other doctors. Once they admitted they both enjoyed the experience they decided maybe they should whip out their dicks and get off before the doctor comes back. They both began to stroke away at their cocks, Pierre shocked at the mammoth Nick is sporting between his legs.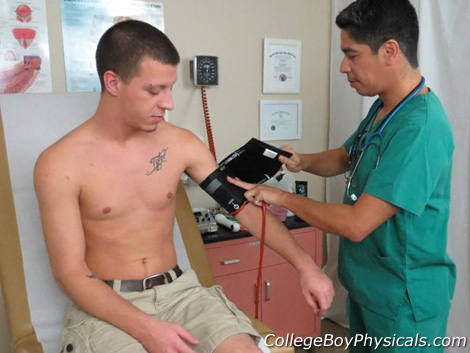 The hot young fresh-faced jock Travis Cooper was waiting for me in one of the clinic waiting rooms today and I couldn't be happier. I had seen the first year around the campus and admired him from afar but I wasn't about to tell him that. When I walked in to the room my breath caught in my throat but I quickly gathered my self together and introduced myself. Travis was complaining about pain in his posterior. After hearing about his diet and the kind of pain he was feeling I could deduce that he was suffering from hemorrhoids.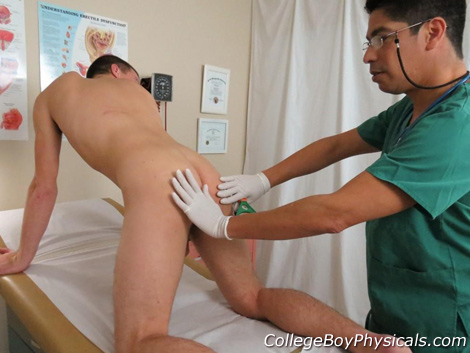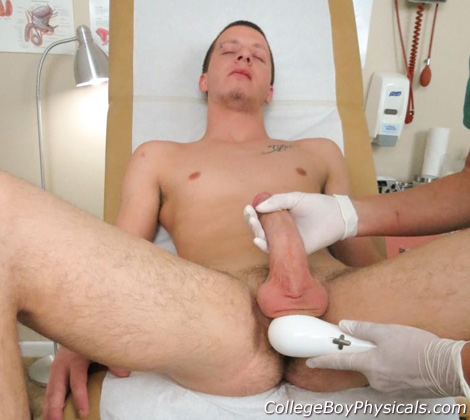 Pierre was one of the stars of the wrestling team and was worried about a pain in his right shoulder. Pierre had heard some weird things from other teammates about the campus doctor but he brushed the stories off and soon found himself sitting on the examination table of Dr. Phingerphuck. The doctor walked in and introduced himself and the exam began from there. He had Pierre take off his singlet after he ran through the usual routine and before he knew it Pierre was on all fours getting his prostate examined.
Dr. Phingerphuck was headed out of the office for his sabbatical to Bermuda. Before he left though he appointed the young and prominent Dr. Topandbottom to head the clinic and all up coming projects during his absence. He placed on his lab coat and brought in his first two patients of the day, Mario and Maverick. He excused Maverick to the bathroom so he could provide the doctor with a urine sample, while he paid special attention to Mario. He had Mario disrobe completely and lay on the exam table while he paid close attention to his dick.
I bent over the exam table as Jacob pressed his throbbing cock against my ass. I felt him slip in to my tight hole. His hard dick was pushing me open as inch after inch was slowly being buried in my ass. Once he was fully inside me he began to rock back and forth. His dick was hitting my prostate and it was making me precum. I turned over and had him resume his assault on my hole. He was fucking my hole hard by now and then with one last thrust he began to quiver as he shoot into the condom deep in my ass. I removed the condom and save it as a sample for future study.
After returning from an extended vacation Dr. Dick was looking forward to returning to the clinic. He was feeling nostalgic about returning to the field of medicine he loved so much but the first day back was turning out a tad bit slow. Then finally in came a boy by the name of Jacob who was a referral from one of the newer doctors transferred to the clinic. The patients ailment was very exciting to treat, he ejaculated prematurely. Dr.Dick knew of a few treatments suitable for such a case. He began giving Jacob the regular exam and when it came to checking his penis Jacob began to bust a nut all over the doctor but his erection never went away.
Once I got two hot loads from my young porn star patient I thought it was my turn to get a little relief. I took off my scrubs off and started teasing him with my cock by rubbing it against his lips and moving back before he got his mouth around the head of my dick. I could tell I was driving the kid wild as he kept trying to get my cock into his mouth. I finally let him have it and he worked my knob like a pro. I wouldn't expect any less from a porn star though; I switched positions with Aiden and laid down on the examination table.
After we had completed the first part of extracting the protein complex for Kayo's sunburn we immediately proceeded into phase two. I took off my scrubs entirely and stood before Kayo sporting a massive hard-on which the kid was all to eager to suck on. He got on his knees and shoved the whole thing into his mouth forming one hell of a sucking on my dick. I was in doctor heaven at this point as Kayo was bobbing up and down the shaft of my cock. I decided it was time I got a bit more comfortable so I took my dick out of a disappointed looking Kayo and settled myself onto the examination table.
As soon as laid down he was on my cock like white on rice, sucking and moaning as he took it down to the base and up to my throbbing knob. I had my hands on the back of his head, dominating him and making him take it all the way down and boy was he enjoying it. His good ass blowjob was bringing me closer to erupting one hell of a load. I pulled his head back and began shooting my hot cum. Exhausted I placed the next part of the treatment on his back and instantly I could tell he was feeling better. Happy with his service he said he'd definitely be coming back for all his medical needs.
When an attractive young student stumbled into my office after hours and begged for my help with his stomach problems I saw it as my civic medical duty to heal his ailment. I had the tall, dark, green eyed stud set down his books and take a seat on the exam table. Once he was on I did the regular check up and then began focusing on his stomach. I had him remove all his clothes and lay down on the table. I checked his stomach for any tender spots and found the problem area immediately. Interestingly enough I had just formulated an experimental technique that would ease his stomach pains.
I began to massage his dick which sprang to life before my very eyes. This kid had a club for a cock. It was a thick, rock hard, and veiny eight inch dick that felt good in my hands. I could also tell that Vince was enjoying himself to. He was thrusting his hips up to meet the rhythm of my handjob and before I knew it the young engineer to be was blowing one nice load all over himself. Vince laid back with a smile on his face and thanked me. It was just part of the job I told him and then excused myself to see to some other business that needed my attention.
Jake wasn't just some boy walking into my clinic complaining about a hand injury. No this kid was one of the cutest boy with piercing eyes and crimson cock sucking lips you could every be lucky enough to lay your sights on. He was sitting on the examination table waiting for me to exam his wrist. I felt my cock twitch in my pants as I looked him up and down. After some background on his injury and pocking mixed in with a little prodding I concluded all he had was a bruised wrist.
I sure as hell wasn't going to tell him that though, the doc is going to milk this sucker for he's worth. I told him he may need some x-rays which caused Jake to give me a look a worry. I told him that we could probably massage it out a bit to see if would could relieve some tension. Placing some numbing cream on his wrist I began working it out with my fingers. He gave me a sigh of relief and enjoyed the pleasure of me working his joints. I told him the next step before the x-ray would be to test out the reflexes in his arm. I began to take out my dick and placed his hand on my cock as he intensively began to jerk it back and forth.